Blake Higgins' smile brightens many programs at AL
Blake Higgins is a freshman here at ALHS and is already doing so well. He has big plans for the future but currently spends his time involved in basketball, baseball,  golf, tennis, choir, student council, and robotics. 
"I chose to participate in Baseball, Basketball, Tennis, and Robotics because I've been into them for a long time," Higgins said. "I've played baseball/tee-ball since I was 4 and I've been in the robotics environment my whole life as my father is the Robotics coach here at AL.  Tennis, Basketball, and Choir are things I picked up in middle school and really got into.  I joined STUCO because my sister talked me into it, to be honest, and because I really enjoyed being in Leadership as an eighth-grader." 
According to Higgins, STUCO helps him feel like he is doing as much as possible to support AL. Beyond this, he supports athletic events and enjoys dressing up for the themes at the basketball and football games. 
 "I really enjoy organizing things and supporting our school, and there's no better way than being in the Student Council," Higgins said. " I have always had a great school spirit, you could ask anyone I know.  I have been dressed up all-out for all themes in basketball and football games, and I've dressed up for almost every spirit week of my life.  I get to use the school spirit I've always had to support and make the school better." 
Despite just beginning high school, Higgins already has big plans for life after graduation. He plans on attending Rice University in Houston, Texas to pursue a major in Sports Management.
 "I really love working with younger people and coaching them, that is why I am both a soccer and basketball referee," Higgins said. "I have always had a more gifted brain than a body and I've been able to think my way through things if I'm not physically strong enough to do them. A sports management major would not only give me opportunities as a coach but also other things in sports like facilitators and agents.  With jobs like these, I can use my knowledge to help others become better and do better than they could on their own," 
Leave a Comment
About the Contributor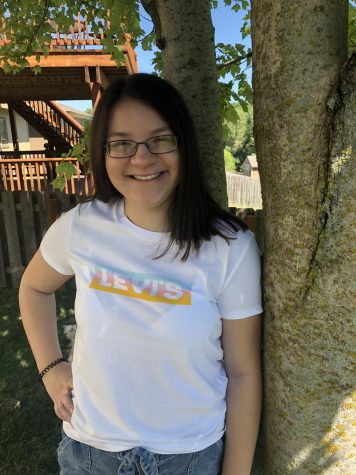 Jordan Schackenberg, Co-Opinion Editor
Jordan is a senior at ALHS and this is her fourth year as a member of newspaper staff. Jordan enjoys watching tik-toks, being outside, volleyball, and...