'Maleficent: Mistress of Evil' is the worth the watch
"Maleficent: Mistress of Evil" (2019) is an extraordinary and tear-wrenching movie. For the first time, one of my favorite childhood movies has a sequel. Ever since "Maleficent" (2014), I've been waiting for another movie to come out. "Maleficent: Mistress of Evil" made me anxious and it made me cry; there are so many parts where I went, "NO……NO……NOOO!!" There are so many ups and downs about the movie, and I've never felt so upset about a movie in a long time. I recommend the movie 100% for the people who like to feel many emotions over a film. 
Since the death of King Stefan (Sharlto Copley), Maleficent (Angelina Jolie) has raised his daughter, Aurora (Elle Fanning), as her own. As Aurora is asked to be married by Prince Phillip (Harris Dickison), Prince Philip's mother, Queen Ingris (Michelle Pfeiffer) wants to meet Aurora and Maleficent for as part of her plan to destroy the Moors, a magical forest realm bordering a human kingdom. Now Maleficent has to put an end to her powerful army with the help of her people. 
I admired the first part of the movie when Aurora was asked to get married by Prince Phillip and Maleficent learned about it.
"Phillip asked me to marry him," Aurora said.
"Poor thing, he'll recover," Maleficent said.
"My answer was yes," Aurora replied.
"No," Maleficent said.
"Yes," Aurora said.
"No," Maleficent said.
"I wasn't really asking," Aurora said.
"Neither was I," Maleficent said.
If you really want to see the scene for yourself, https://www.youtube.com/watch?v=2jzG-5HVxS0. I thought that scene is so hilarious because Aurora gave Maleficent a sassy attitude but Maleficent gave Aurora sass back. 
I thought that Jolie's performance was phenomenal. She did an amazing job of acting out her character and making Maleficent come to life. She did a great job of making her very angry and mean, but also caring for her fellow creatures and Aurora which makes the story not all about Maleficent being the bad guy in the situations. 
The special effects crew worked so hard to make the story come to life by making Maleficent fly and making the creatures in the Moore come to life by making them talk and move at the right time and place.  It's fantastic when the special effects crew brought out the magic in Maleficent by making the magic visible to see, using the green color for her magic, and when they brought out the full gigantic dragon in her like they never did before. When Diaval kept turning into creatures such as a bird or a bear, it created a pretty cool transition as well.
The music in the movie is so intense because you can tell when something is about to go down when the song, "Our Fight Begins Now" by Geoff Zanelli starts playing. When I watched it, I could tell someone is about to get hurt because the music starts slowly, then as there's more fighting it gets louder and louder. I very much disliked when they played the song "Origin Story" because you'll know who's about to get hurt or die which made me really upset. All of the music in the movie helps you predict what's about to happen in the movie.
The costumes and the sets were my all time favorite about the movie. Let's talk about Maleficent's costume during her fight with Queen Ingris.  I thought it was an amazing and beautiful to show Maleficent rebel.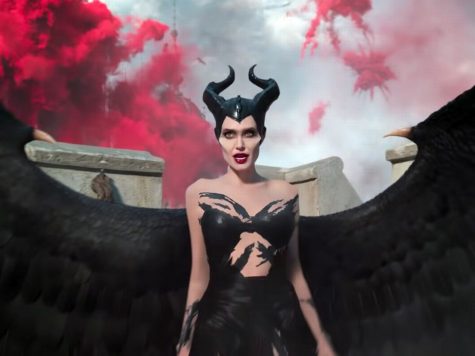 (Photo found here.)
I also liked different and unique horns from the movie because now it's not only Maleficent, it's other people that looked like her and there was a bunch of them.
Putting it all together, the movie is amazing and they did an amazing job because everything made sense in the movie and it fit really well. I believe editing the movie must've been hard work and putting all the transitions together and making sure there weren't any mistakes was probably difficult. At the end it turned out very well because the movie was extraordinary. The camera angles in the movie are really incredible because it took you up when Maleficent was flying up in the sky, and it also gave you perspectives of the dragon and where the three fairies were going.
In conclusion, I thought Joachim Ronning, the director of Maleficent: Mistress of Evil (2019), did an amazing job of directing and putting the movie together for all of us to enjoy. I definitely recommend buying a ticket to watch the movie. I give this movie a 10/10 because it brought a rollercoaster of emotions, action, special effects, etc. Additionally, the actors did a wonderful job of playing their characters right and actually bringing them to life.
Leave a Comment