Surge of streaming subscriptions leave questions for the future of cable television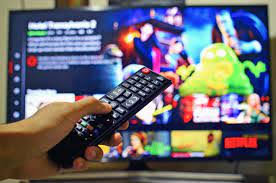 As one industry rises, another falls; we've seen this scenario countless times throughout the last century. When the television was invented in 1927, many people turned their heads away from radio entertainment. In 2007, when the first smartphone came out, companies such as Nokia and BlackBerry were seeing huge drops in sales. Now, with the growing industry of streaming services, the movie theatre business may face the same issue.
When Disney released their new streaming service called Disney+ in November of 2019, it took the world by storm. Not only does it include the entirety of the Star Wars franchise, but it also has the Disney classics like "Fantasia," "Sleeping Beauty," and "Bambi." Disney also added two Disney+ exclusives in "The Mandalorian" and "High School Musical: The Musical: The Series." Both shows received great reviews from critics. Disney+ later released plenty more successful exclusives such as "Luca," "Soul," "WandaVision," and "Hamilton." 
The streaming service was definitely a huge success, with a whopping 10million subscribers on just its first day. Providers such as Netflix and Hulu have also seen great success over recent years. Netflix has produced some outstanding original content such as "Stranger Things," "The Umbrella Academy," and "The Crown." Hulu has most notably created, "The Handmaid's Tale," which won 8 Emmy awards out of 13 nominations.
With all of this outstanding content provided to us from our homes, movie theatres are having a hard time keeping up. After the COVID outbreak in 2020, theatres were forced to shut down, causing the delay of films such as "Black Widow" and "Raya and the Last Dragon." Given this, theatres are having trouble getting people back into their seats. In fact, AMC has just released a 25 million dollar ad campaign featuring Oscar-winner Nicole Kidman to try and drive viewers back into theatres. This is the first televised marketing advertisement that any cinema has ever produced.
This isn't the only issue that theatres are currently facing. Streaming services such as Amazon Prime and HBO Max are frequently adding brand new movies to their platform, like "The Suicide Squad," "Candyman," and "Black Widow." Because of this, movie buffs are asking themselves, why waste money on a movie ticket when I can just watch the film from the comfort of my own home? Of course, you wouldn't get the same surround-sound experience as you would in an actual theatre, but the industry is still struggling with returning to pre-pandemic release date revenue.
"Black Widow" star, Scarlett Johansson, has recently spoken on this. Well, "spoken on" is sort of an understatement, as she currently has a lawsuit placed against the Disney+ platform for breach of contract.  The movie was released on July 9 in both theatres and on Disney+. According to Johansson, her contract specifically guaranteed an exclusive theatrical release. The streaming release limited both Johansson's revenue for her movie and its box-office performance. Disney has publicly denied the breach of contract and even blamed the pandemic for the unsatisfactory box office performance. Whether or not Disney actually violated the contract, we're not sure yet. The trial is still ongoing, but if Johansson wins, she could potentially collect over $50 million in damages. 
The world of streaming services is relatively new, and will only continue to grow and produce new content for it's viewers. Especially with television and speaker technology on the rise, it's becoming increasingly easier to chalk up a big screen theatre within your own home. One can only wonder if the film theatre business will ever return to its pre-pandemic numbers.
Leave a Comment