Lil Nas X defeats one-hit-wonder comments with release of debut album
Lil Nas X has returned with his debut album, "Montero." Lil Nas X is a 22-year old American hip-hop artist. He rose to fame with his 2019 single, "Old Town Road," which gained popularity on the Tiktok platform. The track quickly caught traction in the music industry and ended up winning two Grammy's out of three nominations. Many speculated that Nas would only be a one-hit-wonder, but this was far from the truth. He later released the tracks "Panini" and "Holiday," which both appeared on the Billboard Top 100, establishing Nas as a prominent figure in the industry.
The record starts off with the track "MONTERO (Call Me By Your Name)" which was previously released on April 23. It quickly became one of the most popular yet controversial songs of the year. When Nas dropped the music video for the track, it received lots of criticism for its satanic imagery and symbolism. This song was Nas' first release since November of 2020, and it was a spirited return at that. Nas captures his mental breakthrough in an upbeat and powerful fashion after months of apparent isolation. 
Lil Nas X also included the single "INDUSTRY BABY," which peaked at number one on Billboard's top 100 after it's July 2021 release. The track features fellow rapper Jack Harlow and the two could not have complemented each other any better. Their energy and flow matched in the best way possible and the trumpet instrumentation performed by musician, Ryan Svendsen, was definitely the cherry on top. The brass is back on "DEAD RIGHT NOW," which isn't something you hear very often in hip-hop. It's a refreshing and unique innovation to the genre. The flow was slower than most of the other tracks, but the intense bass and instrumentals kept the record from going off-course.
The background vocals on "THAT'S WHAT I WANT" brought chills. It's pretty much impossible to keep your body from moving while listening to this track with the fast-paced and upbeat guitar melody and Nas' outstanding vocal range. Nas and Elton John work beautifully together on "ONE OF ME." Nas' vocal progressions, along with John's tear-jerking piano performance, create a modern-day masterpiece. The beat drop towards the end of the song makes a powerful conclusion to the track, keeping with the album's primary aesthetic. Nas shows raw emotion and intensity in his vocals throughout the record. This is especially apparent in "LOST IN THE CITADEL," a track about a past relationship that didn't work out. The chorus will have you wanting to dance and cry simultaneously. 
The flow on "DOLLA SIGN SLIME" by both Nas and Megan Thee Stallion was absolutely ridiculous. The trumpet and bass were so fun and unique. It's definitely my hype song of the year. On "TALES OF DOMINICA," Nas shows how low he can go. This track is the best at showcasing his vocal range on this record. The pre-chorus displays some very deep vocals, but in the chorus, his voice rises, which adds that dynamic touch that each song on the album has. 
The album did have a few weak spots. Nas included the single "SUN GOES DOWN," which he previously released on May 21. I didn't care much for this track with the emotionless and almost robotic vocals. It just didn't feel like it fit with the theme of the record. The very next track, titled "VOID," just sounded like it was building towards some dramatic climax, but it never does. Even with what the track does offer, it just doesn't amount to much at all. I also wish the last two tracks, "LIFE AFTER SALEM" and "AM I DREAMING," were switched in order. I  feel like "LIFE AFTER SALEM" would've been the perfect ending to the record with the heavy bass and intense vocals. The track, "AM I DREAMING," features Miley Cyrus, which was actually a pleasant surprise. It opens with soft vocals from Nas, which carries into harmonization with the two artists. But I just think an ending with the dynamic "LIFE AFTER SALEM" would have capitalized on the record so well, yet he chose to end with a soft song. From what I got out of the record, Nas was trying to send a powerful message to its listeners, and a powerful ending would have done just that.
Overall, I think Lil Nas X does almost everything right that one can when making a pop-infused hip-hop project. Near the end, there were a few weaker tracks that didn't complement the album too well, but the record still makes a captivating listening experience.
8.5/10
Leave a Comment
About the Writer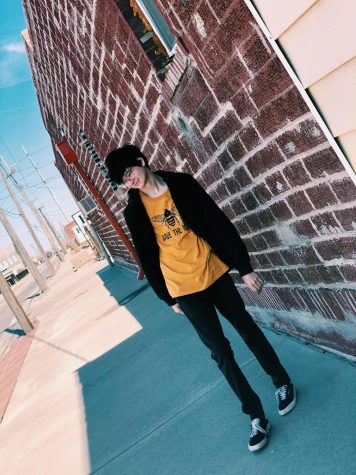 Sam Hovey, Arts & Entertainment Editor
Sam is a senior at ALHS and this is his second year on staff. He enjoys music, fashion, and photography. In his free time, he loves to hang out with friends...