ALHS theater department goes "Into The Woods" in their winter production
The ALHS theater department is premiering the musical "Into The Woods," a fun musical that exhibits the story of a mashup of different characters and fairy tales, on Dec. 10 and 11. The musical is about a baker and his wife trying to break the curse that an evil witch put on them; they agree to get magical items for the witch in exchange for a baby. They go out to find these items to break the curse and from there the story begins its tale.
The director of the show, Steve Mandelko, described the show in many different ways to help give a good feel of what the show would be about. 
"It's energetic, it keeps moving, there are no slow spots, it's just one thing after another, not fast but the plot keeps going, it's also dynamic, funny, heartfelt, and there are a lot of really good messages and metaphors when the characters go through their own issues," Mandelko said.
The magical tale also has some of the fairy tale classics such as Cinderella, Rapunzel, Little Red Riding Hood, and more. The show is fairly quick, ranging from an hour to an hour and thirty minutes.
Mandelko and musical director Elmer Ellefson picked this show for many different reasons, such as providing different opportunities for different cast members and tech kids, opportunities for the tech kids to practice things such as the light, dialogue, and stage time to give the cast many different opportunities and ways to work on their skills and push themselves to work harder and to make this show happen.
With all the preparation, excitement, memories, and practice, the cast has been having a fun time practicing and going out of their comfort zones, and gaining confidence to make them the best actors they can be for the upcoming show. The cast has been super excited for all the opportunities that have been opened up again and to put on a show. 
When coming to the show, you're not just paying to see a musical, but you're paying to see a bunch of hard workers who have been working to put this show together and on the stage. You're paying for kids who have been improving every day and putting themselves out there and going outside of comfort zones and working on confidence. You're paying for kids who have spent days together making many wonderful memories together and being a talented bunch who are putting a show out there for other people to see and enjoy. You're paying to help support the theater and help them put on shows and entertain in the future. Overall, the show in itself is a fun exciting show, has many fun fairytale characters, and is perfect for people of all ages to come enjoy. So come and support ALHS theater on Dec. 10 at 7:00 p.m., or on Dec. 11 where there will be two showings, one at 2:00 P.M. and 7:00 P.M. Tickets will be sold at the door and will be $7 for adults and $5 for students.
Leave a Comment
About the Contributor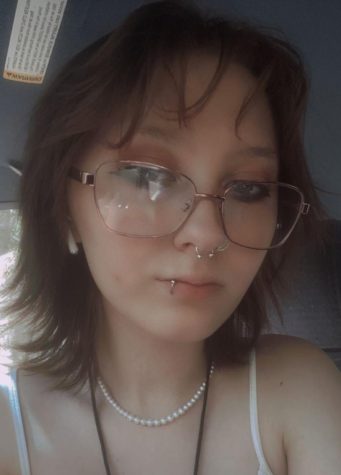 Clara Pyland, A&E Editor
Clara is a senior at ALHS and this is her 4th year doing newspaper. She likes to draw, listen to music, hang out with her friends and play games.