"Encanto" stuns with breathtaking visuals and representation
"Encanto" is Disney's newest animated movie starring Stephanie Beatriz as Mirabel Madrigal. The movie takes place in early 20th century Colombia with the Madrigal family. It was directed by Byron Howard and Jared Bush and features the musical talents of Lin-Manuel Miranda, most famous for writing and starring in the hit Broadway musical "Hamilton."
The movie is Disney's 60th animated feature, and much like "Tangled" (2010) which was the 50th animated feature, it is a great milestone in Disney's history. It is an enchanting story with beautiful animation and genuine performances from the vocal talents of Jessica Darrow as Luisa Madrigal, Diane Guerrero as Isabela Madrigal, and Rhenzy Feliz as Camilo Madrigal as well as Stephanie Beatriz and many others. 
The Madrigal family has been blessed with a miracle that gives the children born into the family extraordinary abilities that they now use to give back to the community that surrounds them.
Plot 
Although Disney is known for its large-scale journeys, the small-scale story of "Encanto" is isolated to a limited setting, but it does not disappoint. The setting, their casita, or magical house acts as a character of its own as it shifts and reforms around the family. 
The narrative revolves more around developing the characters and resolving family conflicts. The plot follows Mirabel as she struggles to discover why the magic that gives her family their powers is fading.
The scenes are sometimes interrupted by musical numbers that act to give insight into the characters and their emotions throughout the movie. These sequences can sometimes be a little jarring with their sudden fantastical visuals, but they work beautifully as a visual representation of the character's inner struggle.
The story could be incredibly comforting with anyone who struggles with large expectations or "gifted kids" in their family dynamic. The characters learn to find self-worth in themselves instead of Luisa in her strength or Isabela in her perceived perfection. The ending is satisfying, and the attention-holding pace of the film keeps you interested throughout the whole movie. 
Characters
Every member of the Madrigal family is teeming with character. Everything from their designs to their individual stories is masterfully planned out. For example, Dolores, the cousin with incredible hearing, has sound waves shown into her shirt, and the families' different branches are represented with different colors.
Mirabel makes for a perfect main character, being considerate to her family and positive in a way that seems genuine and exciting, not annoying. Even Isabela, a character that seems arrogant at first, has her struggles and only wants to help the family like everyone else.
Every character seems to have garnered a cult following online, from the shape-shifting Camilo to the future seeing Bruno. The internet has also been quite excited to see the Colombian culture represented in the film as well, with many taking to social media to praise the accuracy of the merchandise of the characters shown within the film. 
Animation
As well as being emotionally investing and funny, this movie is a beautiful showcase of what Disney animators are capable of. It is filled with moments of fluid and natural-looking movement and expression and is endlessly rewatchable for the background details alone.
Bill Schwab, the lead character designer of the film, uses a carefully crafted mix of realism and exaggerated cartoon features to make everything look highly detailed and natural, but also expressive and warm. The movie has some breathtaking shots that don't shy away from expressing something in a fantastical and sometimes abstract way. 
As previously mentioned, "Encanto" is Disney's 60th animated feature film and a perfect milestone of how far Disney has come with its storytelling and animation. The love put into this firm is very apparent, and the love it's getting back is well deserved. Countless fan works have already been created that illustrate just how inspiring this movie has been for so many people. The movie is fun and energetic but treats its audience with a sense of maturity that one would expect from a Pixar film like "Soul" (2020) or "Up" (2009). Disney seems to be going in a better direction with the works they are choosing to uplift, and many agree that "Encanto" is proof of this.
Leave a Comment
About the Contributor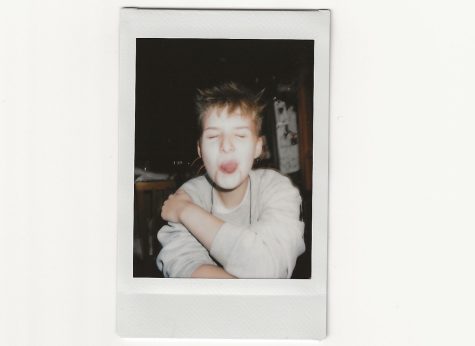 Cannon Wake, Graphic Designer
Cannon is a senior at ALHS this year and this is his second-year staff. He enjoys cooking, painting, and listening to music.