Harry Potter's 20th anniversary is celebrated with a "Return to Hogwarts"
Twenty years ago, some of the most popular movies of the 20th century came out. Harry Potter, the boy who had lived, is back again but is leaving in a more magical way than the first. HBO Max came together with a lot of the actors and directors of Harry Potter to make the Harry Potter 20th Anniversary: Return To Hogwarts. This anniversary gets very emotional and goes through so many memories.
Not only did this anniversary come out on New Year's Day, but HBO Max also came out with a new show. Harry Potter: Hogwarts Tournaments of Houses is not only each Hogwarts house (Gryffindor, Hufflepuff, Ravenclaw, and Slytherin) going against each other but show many real props from the movies. 
HBO Max did a great job of expressing the movies more than ever and showing how each character felt. The Harry Potter Anniversary is well introduced, it is very emotional from the very first scene that you see Emma Watson, Matthew Lewis, Rupert Grint, and Daniel Radcliffe getting a Hogwarts letter inviting them back to Hogwarts. The anniversary is very well laid out like a book. It has chapters of certain parts of the movies. 
As they go through each section of the movie, it's like they relive that chapter of their lives. They go into how a few of the actors had crushes on each other while making the movies and would be excited if they had a scene together. One of them was Emma Watson, who had a big crush on Tom Felton. She would look on the sheet for each scene to see if they would ever have to be together.  
"Nothing has ever, ever, ever, ever happened romantically with us. We just love each other," Watson said.
The anniversary also went over how much it meant for the Weasley family to be together and how they all become like a real family. Oliver and James Phelps talk so much about spending time with the Weasley family. They felt as though they were an actual family. Mark Williams and Julie Walters were described as being their real parents and how they would just go off of each other while acting. In one of the scenes, Oliver Phelps, James Phelps, Mark Willams, and Bonnie Wright all went back to the Weasley house to relive many memories and talk about how they felt connected. 
"Being a Weasley was the fun part, it was relate max," Wright said. 
Closer to the end of the anniversary they had a memorial tribute for those who couldn't make it to the special due to untimely deaths. Jason Isaacs talked about how special it was to work with Helen McCrory and what a great woman she was. They also talked about how Alan Rickman was such a respected actor. At the end of the memorial scene, Robbie Coltrane became very emotional knowing that people will know him as the actor that played Hagrid and that will be there forever but he won't be.
 "People will be watching in 50 years' time, yes," Coltrane said. "I'll not be here sadly… but Hagrid will."
Leave a Comment
About the Contributor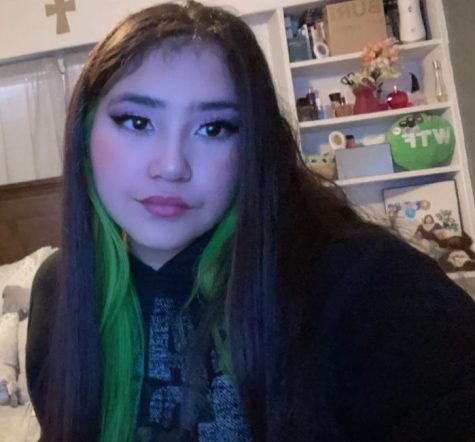 Lenis Rangel, Editor-In-Chief, Editor-In-Chief Los Ecos, News Editor
Lenis is a senior at ALHS, this is her third year doing newspaper. She likes to work and when she is not working she is hanging out with her friends or...