Taking a look at accuracy of Elvis Presley's life compared to blockbuster film
The King of Rock and Roll may be gone, but now he's back. Baz Luhrmann's new Elvis movie walks through the life of the infamous Elvis Presley, played by Austin Butler. His story is told from childhood to becoming a rising rock and movie star. His story is shown through the eyes of his longtime manager, Colonel Tom Parker, who is portrayed by Tom Hanks. 
Baz Luhrmann has also directed Romeo and Juliet, The Great Gatsby, Australia, and more. The fun thing about Luhrmann's movies is that sometimes you don't get historical accuracy, but you get what people call a "Baz-mania." So that leads us to ask, does the new "Elvis" movie stick to the facts, or is it made up?
A little warning: This contains spoilers for the "Elvis" movie (If you consider the details of a very famous person's life, who died 45 years ago, spoilers).
For the first question, did Colonel Tom Parker first see Elvis at the Louisiana Hayride? In the movie, Colonel Parker drives to the hayride to see a white kid who made a "black-sounding" record, "That's all right." The announcer makes it clear that it is his first time performing on that stage. He then sees Elvis transform into a star on that stage. He was dancing in ways that sent teenage girls, and even their mothers, in the audience into his crazed fans as he sings, "Baby, Let's play house." In the movie, Elvis only performed once. In the article, in real life, he had performed twice, and performed the same two songs. He was so uncomfortable and nervous the first time, and the audience didn't know what to think. Afterwards, he had a backstage pep-talk from Sun Records head Sam Phillip. The next time he went out, he was more relaxed and ready to go. Country star Mark Kilgore said, "When he came back out, he destroyed them. They absolutely exploded." Opposite to the movie though, Colonel did not attend this show. But he did see him at the hayride three months later. As mentioned in the article, History versus Hollywood.
Now if you know Elvis, you probably know his famous dance moves. In the movie, his dance moves were very controversial. Were they that big of a problem in real life? Throughout the film, his dancing style earned him the nickname "Elvis the Pelvis," and his dancing also caused him to be flagged to the FBI as a potential security threat, which happened in real life too. In one specific scene, Elvis was performing in Jacksonville, Florida where he wiggled his pinky in mockery of a judge's order to calm down his moves. He was pulled off the stage and arrested. In real life, he was arrested twice. In 1955, he was pulled over for going 20 over the limit. In 1966, he was arrested and charged with disorderly conduct, battery, and assult following an altercation at a gas station (station employees and Presley reportedly got in a fight after his fans swarmed the establishment), but he was never arrested for his supposedly "dangerous" dancing. 
Now speaking of his dancing, did all his fans really go that crazy over him as shown in the movie? Yes. In the movie, it could look somewhat exaggerated, but that is what it was like. Girls were really desperate to get him, as they would scream over him, reach for him, and even chase him. His good looks, mesmerizing voice, and especially his dance moves were more than enough to get girls fangirling all over him. 
In the movie, another significant issue is how Elvis was addicted to drugs. Was Elvis addicted In real life? Yes. He was addicted to prescription drugs for years. He abused tranquilizers, opiates, antihistamines, and many more. Later on, his opiate addiction led to severe constipation for which he took laxatives. It is believed that he was straining on the toilet at the time of his death, resulting in a heart attack. He was found lying unconscious on the floor of the master bathroom suite in his Graceland Mansion.
It was later known that Elvis had a total of 14 drugs in his body at the time of death. A well-respected pathologist, Dr. Cyril Wecht, blamed Elvis' death on Polypharmacy, which is known as the simultaneous use of multiple prescription drugs to treat one or more conditions. Elvis' personal physician for a decade, Dr. George Nichopoulo, faced charges of misconduct for the amount of drugs he gave Elvis. Dr. Nichopoulo testified that Elvis traveled with three suitcases of drugs for himself and his entourage. 
Now, there are many more questions and comparisons you could do, but overall how accurate is Elvis? As mentioned before, sometimes you don't get historical accuracy with Luhrmann's movies. An expert on Elvis's history, Billy Stallings, said the movie is made more for a younger audience and people who are not familiar with Elvis to be introduced to the King of Rock and Roll. Lots of things in the movie are put in there to capture the attention of the younger generations. The extravagance holds everyone's attention to watch Elvis Presley's story unfold. 
Leave a Comment
About the Contributor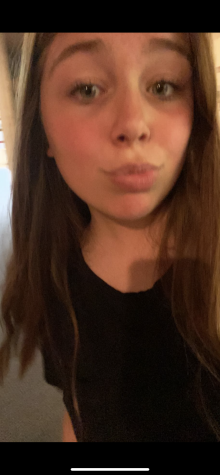 Ava Mescher, Reporter
Ava is a sophomore at ALHS, and this is her first year doing newspaper. In her free time, she likes reading, writing, and hanging out with friends and...