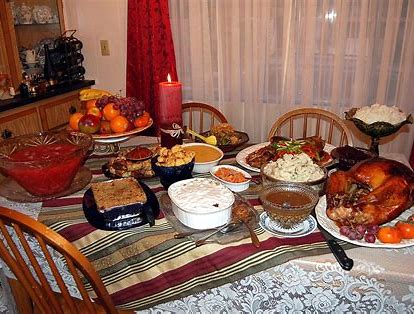 As November advances and fall sets in, the much-awaited Thanksgiving holiday approaches. Although different cultures celebrate numerous holidays during this time, most people in the US celebrate Thanksgiving in some way. Thanksgiving is a time when people come together to celebrate and express gratitude for the blessings of the year. 
Celebrations take place in various locations, with the majority of people celebrating Thanksgiving in their homes. However, some people also travel across the country or even abroad to spend the holiday with their loved ones. They may visit their grandparents, great-grandparents, aunts, uncles, cousins, or children's homes. Some families have the tradition of celebrating Thanksgiving at a vacation home or any other location that they choose.
Another aspect to consider is the number of people attending the celebration. While some people prefer to spend Thanksgiving with their immediate family, others invite extended family members. Some even host the entire family tree, while others prefer to celebrate with friends. The attendees may vary each year, and some families may alternate between both sides of the family.
Once the celebration starts, various activities take place. While some people use it as a religious gathering, others prefer to watch movies and do other activities together. Some families exchange presents early, especially those who will not be seeing each other for the winter. Board games can also be a fun activity, or some people may skip straight to the food.
Food is one of the biggest parts of Thanksgiving and has a huge variety. While turkey is very common in most celebrations, it's not universal. There's also a question of how many, is it one, is it only part of one, or are there multiple? Do people in the family buy it from the store, or catch it from the wild? Another common food is mashed potatoes. But how do you cook them? It can be boxed flakes, store-bought potatoes, homegrown potatoes, or even sweet potatoes. Potatoes can be peeled, or left with skin. There can be seasonings, vegetables, or other ingredients added. You can add butter, margarine, millions of different gravy variations, or ketchup. Maybe there are casseroles of whatever kind. Carrots are a common Thanksgiving food. Maybe some homemade recipes to bring back every year. Crackers and dip, chips and dip, bread and dip. Maybe sweet cornbread or savory cornbread. Carrots are also a common Thanksgiving food. Maybe pie or cake for dessert, or Hawaiian rolls.  Carrot cake is also a common Thanksgiving food. There can be bread and butter, fried butter, fried chicken, chicken and waffles, waffles and pancakes, pancakes and ham, ham and sweet potatoes, and sweet potatoes with marshmallows. Maybe you just get takeout or TV dinners. 
In conclusion, Thanksgiving is a time when people come together to celebrate and express gratitude. There are numerous ways to celebrate Thanksgiving, and families can choose to celebrate in various locations with different activities and food options. It is always a time people can rely on for something familiar or something new.