Halloween in the midst of a Pandemic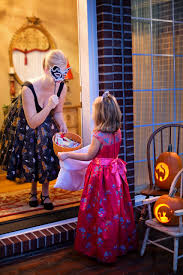 We all know that Halloween is around the corner and kids want to dress up in their spooky costumes and receive candy. It's the time when teenagers get to hang out with friends, watching scary movies, and eating spooky treats. With all that's going around with COVID, we know that there's going to be safety precautions to keep everyone safe and happy. But also, should kids be risking their lives for candy? It's just a piece of candy that their parents could go to the store and buy for them. 
Halloween isn't just about children getting candy, We're risking others too because teenagers want to go out with friends or party, and adults are handing out candy to the children. According to the Center for Disease Control and Prevention, Adults are at more risk of getting the Coronavirus than children are: "Adults of any age with certain underlying medical conditions are at increased risk for severe illness from the virus that causes COVID-19: Adults of any age with the following conditions are at increased risk of severe illness from the virus that causes COVID-19: Cancer, Heart Conditions, Obesity, Smoking, etc."
Some people in the U.S. don't follow the mask rule or the social distancing rule, but not a lot. Some people and kids don't even bother wearing masks, sanitizing, or social distancing which makes it riskier to the other people that want to stay safe. 
Children should be able to have Halloween this year because they need to have fun. There should be safety precautions when going outside to receive Halloween candy. I have seen some people put in pipes to slide candy into children's baskets. People could put tape on their sidewalks to social distance children and when they get the candy, the person giving children the candy could offer them some hand sanitizer.  According to the CDC, children can get infected but adults are more at risk of having the coronavirus than children are. 
The CDC said, "Children can be infected with the virus that causes COVID-19 and can get sick with COVID-19. Most children with COVID-19 have mild symptoms or they may have no symptoms at all ('asymptomatic'). Fewer children have been sick with COVID-19 compared to adults."
If parents are still worried about risking their children, people could always leave the candy outside and if they want kids to only pick a certain amount of candy, they could always look outside their window.
Halloween should not be canceled this year because even though COVID-19 is still going around the world, kids, teens, adults should be able to enjoy themselves but also stay safe. People should encourage others to make flyers around their city to still keep their masks on and sanitize while still having fun. Adults should offer children hand sanitizer after they get their candy to stop the spread of germs and the virus. It's so important that if others want to spend time with friends or family members to keep it small and make sure to wear masks when they want to go out.
Leave a Comment