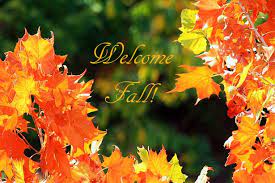 Imagine you are taking a nice walk with a cool breeze and a beautiful mix of warm and cool tones surrounding you as you enjoy your day. This description would be the season of fall. Doesn't it sound amazing? It's pumpkin, spice, and everything nice. Many people may prefer a season like spring with colorful flowers, and early summer joy when they think of their favorite season. However, for many others, fall comes into play. fall is by far the best season there can be. Just think of it, there are so many factors that truly make fall the definition of relaxing and perfect. 
First of all, think of that amazing pumpkin spice candle that gives you that warm and fuzzy feeling when you walk into the room. These type of candles give you a sense of comfort and you feel more welcomed into a room than you ever had before. The pumpkin spice candle is basically a staple to the fall season itself! Not to mention, pumpkin candles come in all different colors and varieties. For example, there's a pumpkin cheesecake candle that just adds more spice to your daily life. 
Another reason that will have you FALLING in love with autumn is of course the spookiness and haunted nights to experience. Haunted houses are in-season during fall and what better way to spend your night than to seek that adrenaline rush from the frightening monsters that lurk in the dark? These are just calling your name if you tend to be a thrill seeker. There is no doubt that you will love the haunted houses that come along when the fall season arrives!
Finally, of course, everyone's favorite reason to love fall is the weather that comes with it. fall weather is by far the best part of the entire year. Summer is too hot, while Winter is too cold. However, fall is right in the middle of these temperatures. It's also not too hot to wear a sweater that comes in a clutch when you are more of a sweater person yourself. 
Overall, how could you not love fall? It is truly an unproblematic season and it helps you get into the spirit of neutral colors, and cozy surroundings as you ease your way into the next season. When you think of fall, you think of all the amazing things and you are able to relax on a nice temperate evening. fall is most definitely a season to enjoy and cherish.