New Early College Academy students eager to start college next school year
If you had the opportunity to get started on your degree two years before high school graduation, would you do it? Some students at Abraham Lincoln High School, such as Liam Lutz, Kylee Koenig, Erin Kups, received this opportunity to get started. For those who don't know, The Early College Academy is a program through the Council Bluffs Community School District that lets juniors and seniors get an early start for college at Iowa Western Community College for two years. Students find out if they have been accepted after applying and interviewing their sophomore year. ECA lets you graduate high school with an associates degree and you get to have more class choices than high school, it's also totally free.
ALHS sophomore Erin Kups feels that ECA is very helpful for kids that want to get started in college already.
"I think that it's good because it gets students that want to go to college in terms of going on a new campus, having schedules with classes that you are interested in," Kups said. "You get to interact with people that you wouldn't have talked to before, those people want to help you succeed."
Another student at AL, sophomore Liam Lutz, had a similar response, saying that the teachers at Iowa Western are great.
"I think the Academy is great and I think that it's such a great opportunity for kids and they have a great staff with Dr. Matthews that really helps kids get involved for an early start in college," Lutz said. 
Although having an early start in college is amazing, that doesn't mean there aren't going to be some challenges in the way. Having to transfer from sophomore year of high school to college could be difficult and confusing. Some students talked about some challenges that might come your way in college.
Sophomore Toby Bohls worries there won't be people there that he knew like at his high school.
"The classes would be different and I'm sure the teaching style would be a little bit different and I may not be with people that I recognize. I would get used to getting classes with people that I don't know," Bohls said. 
After the ECA program, students are required to go on to a four year college.
"I plan to transfer to a 4-year program after the academy and hopefully play volleyball and get a degree in graphic design." Lutz said.
Sophomore Kylee Koenig said she wanted to finish ECA and later move on to a university.
"I plan to finish at Iowa Western and continue on to University of Nebraska-Omaha, and then get a job in cybersecurity." Koenig said.
For Kups, she feels the program could help her plan for the future.
"I am hoping that it would help me for my 4 years of college, and that I would have less financial stress after college." Kups said.
Below is a list of all the students selected for ECA for the 2020-2021 school year. Congratulations to these high-achieving lynx!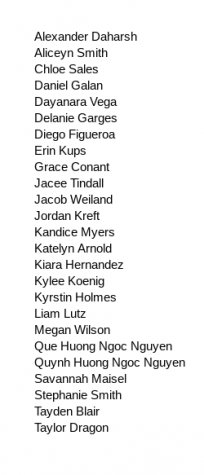 Leave a Comment