Student Council hosts annual spring blood drive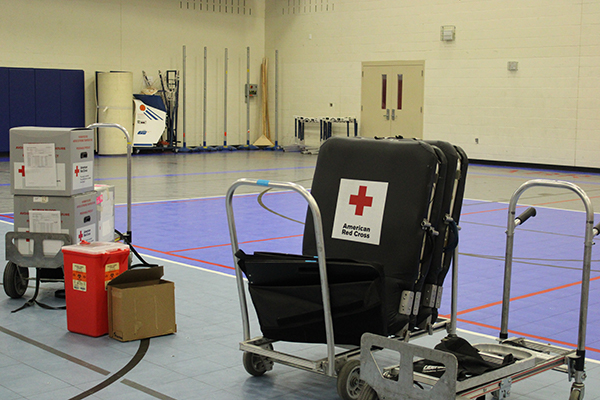 Students 16 and up generously donated their blood on March 6 for the Red Cross blood drive at AL. Student council helped organize the drive and help publicize it. Donating blood helps people who need a transfusion and patients with cancer, chronic diseases and more. 
Michael McIntosh, while also being an English teacher as AL, has been a part of Student Council for 10 years and has been focusing on helping to organize the blood drive for about 7 years. McIntosh acknowledges the importance of donating and how he urges others to donate.
"We've really focused on explaining why it's needed and how important it is," McIntosh said. "We try to focus on what's going on to make people really understand."
McIntosh also recognizes that while they intend to start earlier, other things sometimes get in the way, but the Red Cross is efficient and very helpful. 
"Whether that's putting up posters, we always wanna try to do it earlier than we actually end up getting to do it because we have other things we're working on but we try to notify people about two weeks before the blood drive," McIntosh said. "The Red Cross does a great job of notifying people and getting previous donors signed up but there are always things we could do better."
Junior Zoe Lutz recognizes some difficulties that they encounter during the blood drive. 
"One problem we run into a lot that doesn't really affect the planning is that many girls get turned down for donation because of the height to weight ratio," Lutz said. "I think last fall we lost somewhere around 20 girls because of this."
Senior, Jacob James,  has helped with four blood drives and is in his second year of Student Council. 
"We have to coordinate with the Red Cross beforehand on the specifics such as the date and the time," James said. "Then the days leading up to the drive, we advertise it and try and get as many people signed up as possible."
To encourage people to sign up for the blood drive, James focuses on informing people about the good that their donation can cause. 
"Personally, I like to emphasize the help it does," he said. "I almost always tell people that donating blood can save lives."
You can help by signing up for the next blood drive at AL or going to redcrossblood.org to find a blood drive near you. 
Leave a Comment