Teachers training to understand student trauma
The students of Abraham Lincoln have very diverse upbringings. Walking down the hallway, you pass people you don't know and probably won't ever talk to. That person you pass without one thought could be going through something no kid should go through.
The teachers and staff have been working together to recognize the different home lives of the students. Teachers and staff have also been educating themselves to create relationships within their classrooms. Although teachers are trying to understand diversity, some students don't feel heard or safe enough to open up to certain teachers. 
Sophomore Trevor Love has a hard time believing that opening up to his teachers could benefit him. 
"I don't like most of my teachers. There are some I like, but they would not be better even if they knew my trauma because I feel like they still are not gonna listen to me and understand," Love said. "They wouldn't cut me slack because they don't listen and understand.  I would not feel safe telling my teachers because my case would be the same and I would feel smothered with sympathy. I hate when they tell me what to do when I understand I'm good on my own."  
Freshman Akeelah Cotton feels her relationships with her teachers are detached and doesn't feel safe to open up with her teachers. 
"My teachers and I are distant. We don't get along. I don't listen to my teacher because I feel unheard," Cotton said. "I think they would cut me slack if they knew what I was going through, but I don't feel safe telling my teacher what I go through." 
Sophomore Zacaiya Baker feels unheard because she doesn't think her teachers will understand. 
"I don't feel heard when I talk to them because they don't understand what I'm coming from because of the upbringing I've had," Baker said. "I don't think they would cut me slack because some of them don't understand where I'm coming from. I wouldn't feel comfortable telling any of my teachers what I go through."   
Freshman Ivan Floyd wants to feel heard.  He doesn't feel the teachers would truly understand what he lives through.  According to Floyd, he still manages to show up and he said teachers should appreciate that.
"The relationship between me and my teachers is alright but they are rude and impatient. If they would listen to me like they want me to listen to them I would respect them better," Floyd said. "I would say my teachers are not understanding about what I go through on a daily basis and I still show up. I think they should appreciate that more. I don't think they would cut me slack. I feel that if I told them what is going on they wouldn't understand from my shoes because I lived through it and they didn't."
Freshman Ethan Hutchison believes some teachers would understand and help him out but he doesn't feel he would tell them what he goes through. 
"I think half of them (teachers) would cut me slack and the other half wouldn't understand.  I would feel comfortable telling them some things but only to some," Hutchinson said. 
Although there are negative reactions by students about teachers sophomore Molly Romano expresses her appreciation for a teacher.                                
"Mr. Brietzke is very relatable, understanding, and caring," Romano said. "He finds a way to connect with his students by balancing his care for his students' academics but also them as a person."
Assistant principal Jeff Novotny said teachers are currently going through training on relationships and becoming trauma-informed. 
"I think our teachers have gone through immense training and it takes a while to develop trust.  It is a two-way street. I think maybe teachers are working with them more than they (students) think, and I would like to think they have at least one caring adult at Abraham Lincoln.  Trauma relationships are talked about at Monday meetings. We still have work to do. It's something we will continuously work on,"  Novotny continues. "Give your teachers a chance.  Go to class and work on the trust; it's still a high school that needs rules and regulations, and relationships are still a key part of a high school." 
Assistant principal Rob Lindquist said that learning how to make and keep relationships between students and teachers is a key focus for this school year.  
"Relationships are a big focus for the teachers and staff and building relationships with students and how to mend relationships,"  Lindquist said. "I would say our teachers are doing it to the best of our ability.  We work 100% to try to apply it and I trust our teachers are doing what they are supposed to be doing." 
Leave a Comment
About the Contributor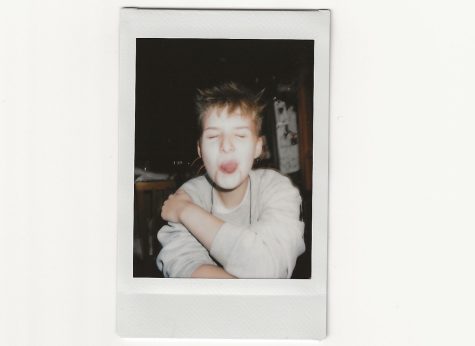 Cannon Wake, Graphic Designer
Cannon is a senior at ALHS this year and this is his second-year staff. He enjoys cooking, painting, and listening to music.